Praděd Gliding 2009 › Results › Day 1 › 07.03.2009
Day 1 / Day 2 / Day 3 / Day 4 / Overall results
| | | | | | | | | | | |
| --- | --- | --- | --- | --- | --- | --- | --- | --- | --- | --- |
| | | PILOT | CN | RN | PLANE | DISTANCE | TIME | SPEED | PEN | SCORE |
| 01 | | Sandor Laurinyecz | LS | HA-4483 | ASW27 | 260.26 km | 01:58:46 | 131.5 km/h | 0 | 1000 |
| 02 | | Norbert Kiss | CN | HA-1974 | ASW27 | 260.26 km | 01:59:27 | 130.7 km/h | 0 | 990 |
| 03 | | Václav Kořínek | VK | OK-3806 | ASW27 | 260.26 km | 02:01:57 | 128.0 km/h | 0 | 955 |
| 04 | | Jarosław Kajoch | JK | SP-2626 | ASW27 | 260.26 km | 02:03:48 | 126.1 km/h | 0 | 930 |
| 05 | | Daniel Gałuszka | YYY | SP-3049 | ASW27 | 260.26 km | 02:04:34 | 125.3 km/h | 0 | 920 |
| 06 | | Jan Michálek | Y77 | JERRY | ASW27 | 260.26 km | 02:04:39 | 125.3 km/h | 0 | 919 |
| 07 | | H Blazz | HBH | HUUU | ASW27 | 260.26 km | 02:04:59 | 124.9 km/h | 0 | 915 |
| 08 | | Marcin May | MAY | SP-4545 | ASW27 | 260.26 km | 02:05:47 | 124.1 km/h | 0 | 905 |
| 09 | | Gabor Herczeg | HER | HER-001 | ASW27 | 260.26 km | 02:05:56 | 124.0 km/h | 0 | 903 |
| 10 | | Piotr Raczynski | PIT | SP-2901 | Ventus2 | 260.26 km | 02:06:28 | 123.5 km/h | 0 | 896 |
| 11 | | Sławek Lizon | SLA | SP-1960 | ASW27 | 260.26 km | 02:07:31 | 122.4 km/h | 0 | 883 |
| 12 | | Martin Kožár | MK1 | OM-2002 | Ventus2 | 260.26 km | 02:08:03 | 121.9 km/h | 0 | 876 |
| 13 | | Tomasz Siejek | GD5 | SP-0055 | LS6 | 260.26 km | 02:10:08 | 120.0 km/h | 0 | 850 |
| 14 | | Jan Nyc | JN | OK-6200 | ASW27 | 260.26 km | 02:11:04 | 119.1 km/h | 0 | 839 |
| 15 | | Petr Lukasek | LU | OK-1818 | ASW27 | 260.26 km | 02:12:05 | 118.2 km/h | 0 | 827 |
| 16 | | Pal Pelle | PLE | HA-2514 | ASW27 | 260.26 km | 02:13:22 | 117.1 km/h | 0 | 812 |
| 17 | | Martin Krapf | MCC | OK-1411 | Ventus2 | 260.26 km | 02:14:27 | 116.1 km/h | 0 | 800 |
| 18 | | Marcin Tworuszka | 1MT | SP-3016 | ASW27 | 260.26 km | 02:14:28 | 116.1 km/h | 0 | 800 |
| 19 | | Peter Kožár | LN | OM-2700 | Ventus2 | 260.26 km | 02:17:05 | 113.9 km/h | 0 | 771 |
| 20 | | David Šakal | SAK | OK-DEMO | ASW27 | 260.26 km | 02:17:48 | 113.3 km/h | 0 | 763 |
| 21 | | Géza P | GP9 | HA-PG | ASW27 | 260.26 km | 02:17:49 | 113.3 km/h | 0 | 763 |
| 22 | | Jiří Ehrenberger | PJE | OK-6417 | ASW27 | 260.26 km | 02:18:30 | 112.7 km/h | 0 | 756 |
| 23 | | Jiří Holub | JHO | OK-4408 | Ventus2 | 260.26 km | 02:19:57 | 111.6 km/h | 0 | 741 |
| 24 | | Antal Szucs | SIR | Siraly | Ventus2 | 260.26 km | 02:21:37 | 110.3 km/h | 0 | 724 |
| 25 | | Martin Stránsky | SMS | OK-6564 | Ventus2 | 260.26 km | 02:25:00 | 107.7 km/h | 0 | 690 |
| 26 | | Radek Miča | RM | OK-5417 | LS6 | 260.26 km | 02:26:19 | 106.7 km/h | 0 | 677 |
| 27 | | Janos Lenarth | LJJ | HA-4511 | ASW27 | 260.26 km | 02:33:16 | 101.9 km/h | 0 | 614 |
| 28 | | Dariusz Banucha | DB | SP-1345 | Ventus2 | 260.26 km | 02:39:35 | 97.8 km/h | 0 | 562 |
| 29 | | Jan Štěrba | JNK | OK-2209 | ASW27 | 203.43 km | | | 0 | 335 |
| 30 | | Svatopluk Pelčák | PS5 | OK-6816 | ASW27 | 260.26 km | 02:46:06 | 94 km/h | 198 | 314 |
| 31 | | Tamas Pentz | S7 | TOM | Ventus2 | 66.65 km | | | 186 | 0 |
| 32 | | Jan Podolan | A22 | ANDEL | ASW27 | 74.3 km | | | 0 | 0 |
| 33 | | Peter Žiak | PZ | OM-4701 | LS6 | 73.7 km | | | 0 | 0 |
| 34 | | Pienso Ienso | PI | EU-HIGH | ASW27 | 0 km | | | 0 | 0 |

Download IGC files from all pilots in one file (ZIP file)
Briefing › Day 1 › 07.03.2009 › 20:00 CET › saturday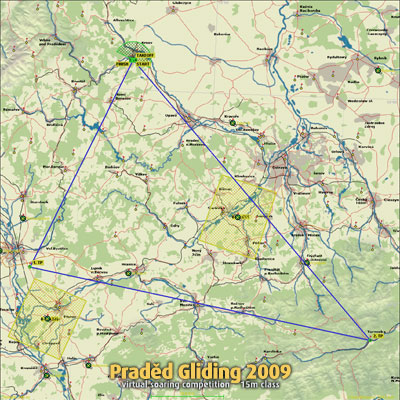 Weather report
Excellent weather expected on the 1st day of competition led to the launching of a longer task - FAI triangle 260 km. We expect weaker thermal activity, but strong. Cloud base is expected at an altitude of around 2300 m QNH. Wind is northwest of the strength of 2-7 m/s.
---
Server:Praded Gliding 2009
Password:
Date:07.03.2009
Time:20:00 CET (19:00 UTC)
Join Time:30 minutes
---
Landscape:Slovakia 4.0
Plane class:15m FAI
Start time:11:30:00
Start alt:1400 m
---
TakeOff:Krnov
Start:Krnov
1. TP:VELKY TYNEC
2. TP:TURZOVKA
Finish:Krnov
Distance:260.3 km
---
Race starts in 10 minutes after join time ends.
Startwindow will be open for 60 minutes. Cloudflying not allowed!
---

Download flightplan (ZIP file)