Praděd Gliding 2009 › Results › Day 2 › 14.03.2009
Day 1 / Day 2 / Day 3 / Day 4 / Overall results
| | | | | | | | | | | |
| --- | --- | --- | --- | --- | --- | --- | --- | --- | --- | --- |
| | | PILOT | CN | RN | PLANE | DISTANCE | TIME | SPEED | PEN | SCORE |
| 01 | | Marek Svozil | 22 | OK-2211 | Ventus2 | 212.14 km | 02:00:26 | 105.7 km/h | 0 | 1000 |
| 02 | | Sandor Laurinyecz | LS | HA-4483 | Ventus2 | 210.90 km | 02:02:23 | 103.4 km/h | 0 | 975 |
| 03 | | Martin Kožár | MK1 | OM-2002 | Ventus2 | 232.71 km | 02:21:49 | 98.5 km/h | 0 | 921 |
| 04 | | Pavel Foldyna | OO | OK-8540 | ASW27 | 202.48 km | 02:03:27 | 98.4 km/h | 0 | 921 |
| 05 | | Václav Kořínek | VK | OK-3806 | ASW27 | 216.56 km | 02:12:16 | 98.2 km/h | 0 | 919 |
| 06 | | Jan Michálek | Y77 | JERRY | Ventus2 | 200.65 km | 02:03:40 | 97.4 km/h | 0 | 909 |
| 07 | | Ladislav Červinka | LAD | OK-1979 | ASW27 | 230.75 km | 02:32:10 | 91.0 km/h | 0 | 840 |
| 08 | | David Šakal | SAK | OK-DEMO | Ventus2 | 178.84 km | 02:03:30 | 86.9 km/h | 0 | 795 |
| 09 | | Norbert Kiss | CN | HA-1974 | Ventus2 | 172.10 km | 01:57:32 | 86.1 km/h | 0 | 786 |
| 10 | | Petr Lukasek | LU | OK-1818 | ASW27 | 186.98 km | 02:11:16 | 85.5 km/h | 0 | 780 |
| 11 | | Peter Kožár | LN | OM-2700 | Ventus2 | 212.10 km | 02:29:49 | 84.9 km/h | 0 | 774 |
| 12 | | Jiří Holub | JHO | OK-4408 | Ventus2 | 170.31 km | 02:02:14 | 83.6 km/h | 0 | 759 |
| 13 | | Martin Stránsky | SMS | OK-6564 | Ventus2 | 166.78 km | 02:07:24 | 78.5 km/h | 0 | 704 |
| 14 | | Janos Cservenak | G83 | HA-5401 | Ventus2 | 168.89 km | 02:09:26 | 78.3 km/h | 0 | 701 |
| 15 | | Géza P | GP9 | HA-PG | Ventus2 | 153.69 km | 01:55:28 | 76.8 km/h | 0 | 686 |
| 16 | | Gábor Herczeg | HER | HER-001 | Ventus2 | 152.89 km | 01:56:35 | 76.4 km/h | 0 | 681 |
| 17 | | Pal Pelle | PLE | HA-2514 | Ventus2 | 184.98 km | 02:33:14 | 72.4 km/h | 0 | 638 |
| 18 | | Jan Štěrba | JNK | OK-2209 | ASW27 | 142.19 km | 01:53:35 | 71.1 km/h | 0 | 623 |
| 19 | | Tamas Pentz | S7 | TOM | ASW27 | 121.89 km | 01:35:42 | 60.9 km/h | 0 | 616 |
| 20 | | Piotr Raczynski | PIT | SP-2901 | Ventus2 | 179.06 km | | | 0 | 474 |
| 21 | | Jarosław Kajoch | JK | SP-2626 | ASW27 | 155.13 km | | | 0 | 411 |
| 22 | | Radek Miča | RM | OK-5417 | LS6 | 82.08 km | | | 0 | 217 |
| 23 | | Honza Čejpa | HCE | OK-1984 | ASW27 | 24.60 km | | | 0 | 65 |
| 24 | | Jan Nyc | JN | OK-6200 | Ventus2 | 23.82 km | | | 0 | 63 |
| 25 | | Svatopluk Pelčák | PS5 | OK-6816 | ASW27 | 23.07 km | | | 0 | 61 |
| 26 | | Mirek Ježek | MJJ | OK-9720 | LS6 | 19.76 km | | | 0 | 52 |
| 27 | | Jiří Ehrenberger | PJE | OK-6417 | ASW27 | 19.76 km | | | 0 | 52 |
| 28 | | Jan Podolan | A22 | ANDEL | ASW27 | 11.70 km | | | 0 | 31 |
| 29 | | Marcin Tworuszka | 1MT | SP-3016 | ASW27 | 30.6 km | | | 0 | 0 |
| 30 | | Janusz Stys | JST | SP-1980 | Ventus2 | 21.2 km | | | 0 | 0 |
| 31 | | Tomasz Siejek | GD5 | SP-0055 | LS6 | 13.2 km | | | 0 | 0 |
| 32 | | Marcin May | MAY | SP-4545 | ASW27 | 2.6 km | | | 0 | 0 |

Download IGC files from all pilots in one file (ZIP file)
Briefing › Day 2 › 14.03.2009 › 20:00 CET › saturday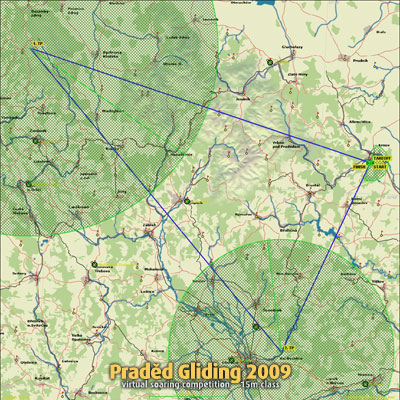 Weather report
There is worse weather at the second competition day. Cold front is approaching from Germany and the weather is not good. Therefore today we will have an AAT (assigned areas task). Minimal time for this AAT is 120 minutes (distance min. 113 km, max. 408 km). First TP radius is 50 km, second 30 km. We expected many thermal lifts, but they will be weak. Cloudbase is expected to be around 2200 m QNH, northwest wind will blow with speed of 5-9 m/s.
---
Server:Praded Gliding 2009
Password:
Date:14.03.2009
Time:20:00 CET
Join Time:30 minutes
---
Landscape:Slovakia 4.0
Plane class:15m FAI
Start time:11:50:00
Start alt:1400 m
---
TakeOff:Krnov
Start:Krnov
1. TP:VELKA DESTNA
2. TP:HLUBOCKY
Finish:Krnov
Distance:255.5 km
---
Race starts in 10 minutes after join time ends.
Startwindow will be open for 60 minutes. Cloudflying not allowed!
---

Download flightplan (ZIP file)