Praděd Gliding 2009 › Results › Day 4 › 28.03.2009
Day 1 / Day 2 / Day 3 / Day 4 / Overall results
| | | | | | | | | | | |
| --- | --- | --- | --- | --- | --- | --- | --- | --- | --- | --- |
| | | PILOT | CN | RN | PLANE | DISTANCE | TIME | SPEED | PEN | SCORE |
| 1 | | Martin Kožár | MK1 | OM-2002 | Ventus2 | 250.12 km | 01:56:51 | 128.4 km/h | 0 | 1000 |
| 2 | | Daniel Gałuszka | YYY | SP-3049 | ASW27 | 250.12 km | 01:57:42 | 127.5 km/h | 0 | 990 |
| 3 | | Gabor Herczeg | HER | HER-001 | LS6 | 250.12 km | 01:58:22 | 126.8 km/h | 0 | 982 |
| 4 | | Jan Michálek | Y77 | JERRY | ASW27 | 250.12 km | 02:01:31 | 123.5 km/h | 0 | 946 |
| 5 | | Henryk Piękoś | HPO | SP-3468 | Ventus2 | 250.12 km | 02:03:00 | 122 km/h | 0 | 929 |
| 6 | | Ladislav Červinka | LAD | OK-1979 | ASW27 | 250.12 km | 02:03:37 | 121.4 km/h | 0 | 922 |
| 7 | | Norbert Kiss | CN | HA-1974 | ASW27 | 250.12 km | 02:03:39 | 121.3 km/h | 0 | 922 |
| 8 | | Sandor Laurinyecz | LS | HA-4483 | ASW27 | 250.12 km | 02:04:18 | 120.7 km/h | 0 | 915 |
| 9 | | Tomasz Siejek | GD5 | SP-0055 | LS6 | 250.1 km | 02:04:46 | 120.3 km/h | 0 | 910 |
| 10 | | Jarosław Kajoch | JK | SP-2626 | ASW27 | 250.1 km | 02:06:41 | 118.5 km/h | 0 | 890 |
| 11 | | Petr Lukasek | LU | OK-1818 | ASW27 | 250.12 km | 02:08:00 | 117.2 km/h | 0 | 876 |
| 12 | | Pal Pelle | PLE | HA-2514 | ASW27 | 250.12 km | 02:11:21 | 114.2 km/h | 0 | 843 |
| 13 | | Radek Miča | RM | OK-5417 | LS6 | 250.1 km | 02:12:01 | 113.7 km/h | 0 | 837 |
| 14 | | Shawn Curry | SC | C | Ventus2 | 250.11 km | 02:13:47 | 112.2 km/h | 0 | 820 |
| 15 | | Jiří Holub | JHO | OK-4408 | ASW27 | 250.12 km | 02:17:45 | 108.9 km/h | 0 | 785 |
| 16 | | Géza P | GP9 | HA-PG | ASW27 | 250.12 km | 02:18:10 | 108.6 km/h | 0 | 781 |
| 17 | | Václav Kořínek | VK | OK-3806 | ASW27 | 250.12 km | 02:21:11 | 106.3 km/h | 0 | 755 |
| 18 | | Jiří Ehrenberger | PJE | OK-6417 | ASW27 | 250.12 km | 02:21:26 | 106.1 km/h | 0 | 753 |
| 19 | | Janos Cservenak | G83 | HA-5401 | ASW27 | 250.12 km | 02:23:48 | 104.4 km/h | 0 | 734 |
| 20 | | Svatopluk Pelčák | PS5 | OK-6816 | ASW27 | 250.12 km | 02:26:43 | 102.3 km/h | 0 | 711 |
| 21 | | Antonín Fischer | AFI | OK-1103 | Ventus2 | 250.12 km | 02:27:37 | 101.7 km/h | 0 | 704 |
| 22 | | David Šakal | SAK | OK-DEMO | ASW27 | 250.12 km | 02:34:19 | 97.2 km/h | 0 | 655 |
| 23 | | Marek Olejár | MO | SL-126 | ASW27 | 184.24 km | | | 0 | 388 |
| 24 | | Juanjo Sainz | JS | 478 | ASW27 | 180.27 km | | | 0 | 380 |
| 25 | | Braňo Žiak | BZ | BRANO | Ventus2 | 137.9 km | | | 0 | 290 |
| 26 | | Ivo Kulich | IK | OK-CNDR | LS6 | 137.8 km | | | 0 | 290 |
| 27 | | Jan Šterba | JNK | OK-2209 | ASW27 | 70.79 km | | | 0 | 149 |
| 28 | | Marcin Tworuszka | 1MT | SP-3016 | LS6 | 61.17 km | | | 0 | 129 |
| 29 | | Dušan Masaryk | DWA | OK-RED | ASW27 | 35.3 km | | | 0 | 74 |
| 30 | | Robert Žiak | RZ | PYUSX | ASW27 | 63.88 km | | | 0 | 0 |
| 31 | | Martin Krapf | MCC | OK-1411 | Ventus2 | 15.5 km | | | 0 | 0 |

Download IGC files from all pilots in one file (ZIP file)
Briefing › Day 4 › 28.03.2009 › 20:00 CET › saturday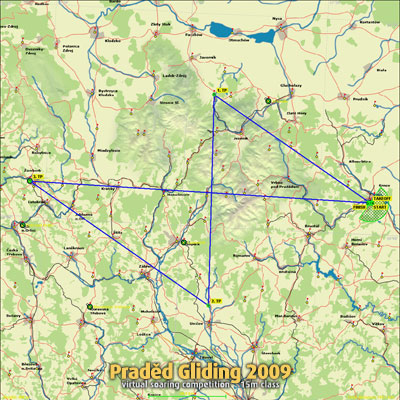 Weather report
Last race day of Praděd Competition is 250 km long polygon. It will be almost blue day. Thermals are strong, only few clouds are expected over hills area. Cloudbase at 2400 m QNH, west wind about 4 m/s.
---
Server:Praded Gliding 2009
Password:
Date:21.03.2009
Time:20:00 CET
Join Time:30 minutes
---
Landscape:Slovakia 4.0
Plane class:15m FAI
Start time:12:00:00
Start alt:1400 m
---
TakeOff:Krnov
Start:Krnov
1. TP:ZULOVA
2. TP:SUMVALDSKY RYB.
3. TP:Zamberk
Finish:Krnov
Distance:250.1 km
---
Race starts in 10 minutes after join time ends.
Startwindow will be open for 60 minutes. Cloudflying not allowed!
---

Download flightplan (ZIP file)