Praděd Gliding 2009 › Results › Day 3 › 21.03.2009
Day 1 / Day 2 / Day 3 / Day 4 / Overall results
| | | | | | | | | | | |
| --- | --- | --- | --- | --- | --- | --- | --- | --- | --- | --- |
| | | PILOT | CN | RN | PLANE | DISTANCE | TIME | SPEED | PEN | SCORE |
| 01 | | Sandor Laurinyecz | LS | HA-4483 | ASW27 | 234.49 km | 02:00:16 | 117 km/h | 0 | 1000 |
| 02 | | Václav Kořínek | VK | OK-3806 | ASW27 | 234.49 km | 02:04:33 | 112.9 km/h | 0 | 959 |
| 03 | | Piotr Raczynski | PIT | SP-2901 | ASW27 | 234.49 km | 02:05:03 | 112.5 km/h | 0 | 955 |
| 04 | | Jan Michálek | Y77 | JERRY | Ventus2 | 234.49 km | 02:06:12 | 111.5 km/h | 0 | 944 |
| 05 | | Martin Kožár | MK1 | OM-2002 | Ventus2 | 234.49 km | 02:07:26 | 110.4 km/h | 0 | 933 |
| 06 | | Radek Miča | RM | OK-5417 | LS6 | 234.49 km | 02:08:27 | 109.5 km/h | 0 | 924 |
| 07 | | Braňo Žiak | BZ | BRANO | Ventus2 | 234.49 km | 02:15:54 | 103.5 km/h | 0 | 863 |
| 08 | | Jiří Holub | JHO | OK-4408 | Ventus2 | 234.49 km | 02:17:34 | 102.3 km/h | 0 | 851 |
| 09 | | Norbert Kiss | CN | HA-1974 | Ventus2 | 234.49 km | 02:18:57 | 101.2 km/h | 0 | 840 |
| 10 | | Janos Tornyai | FLY | HA-1969 | Ventus2 | 234.49 km | 02:20:02 | 100.5 km/h | 0 | 832 |
| 11 | | Pal Pelle | PLE | HA-2514 | ASW27 | 234.49 km | 02:20:56 | 99.8 km/h | 0 | 826 |
| 12 | | Jiří Ehrenberger | PJE | OK-6417 | ASW27 | 234.49 km | 02:21:27 | 99.5 km/h | 0 | 822 |
| 13 | | Petr Lukasek | LU | OK-1818 | ASW27 | 234.49 km | 02:27:22 | 95.5 km/h | 1 | 781 |
| 14 | | Géza P | GP9 | HA-PG | Ventus2 | 234.49 km | 02:32:01 | 92.6 km/h | 0 | 752 |
| 15 | | Antal Szucs | SIR | Siraly | Ventus2 | 234.49 km | 02:35:19 | 90.6 km/h | 0 | 732 |
| 16 | | Marcin Tworuszka | 1MT | SP-3016 | ASW27 | 234.49 km | 02:36:55 | 89.7 km/h | 0 | 723 |
| 17 | | Peter Kravec | PK1 | OM-OME | ASW27 | 234.49 km | 02:43:31 | 86 km/h | 0 | 686 |
| 18 | | Robert Cizkovsky | XXL | OK-6508 | Ventus2 | 234.49 km | 02:45:41 | 84.9 km/h | 0 | 674 |
| 19 | | Antonín Fischer | AFI | OK-1103 | Ventus2 | 234.49 km | 02:53:53 | 80.9 km/h | 0 | 634 |
| 20 | | Svatopluk Pelčák | PS5 | OK-6816 | ASW27 | 221.38 km | | | 0 | 570 |
| 21 | | Peter Kožár | LN | OM-2700 | Ventus2 | 186.76 km | | | 0 | 481 |
| 22 | | Jan Štěrba | JNK | OK-2209 | ASW27 | 178.72 km | | | 0 | 460 |
| 23 | | Robert Žiak | RZ | PYUSX | Ventus2 | 145.89 km | | | 0 | 376 |
| 24 | | H. Blazz | HBH | HUUU | Ventus2 | 27.3 km | | | 0 | 70 |
| 25 | | Janos Cservenak | G83 | HA-5401 | Ventus2 | 26.99 km | | | 0 | 70 |
| 26 | | Jan Nyc | JN | OK-6200 | ASW27 | 25.59 km | | | 0 | 66 |
| 27 | | Jarosław Kajoch | JK | SP-2626 | ASW27 | .1 km | | | 0 | 0 |
| 28 | | Tamas Pentz | S7 | TOM | ASW27 | 0 km | | | 0 | 0 |
| 29 | | Dušan Masaryk | DUM | OK-1978 | ASW27 | 1.3 km | | | 0 | 0 |
| 30 | | Marek Svozil | 22 | OK-2211 | Ventus2 | 41.1 km | | | 0 | 0 |
| 31 | | Martin Krapf | MCC | OK-1411 | Ventus2 | 28 km | | | 0 | 0 |
| 32 | | Sławek Lizon | SLA | SP-1960 | ASW27 | 22.3 km | | | 0 | 0 |

Download IGC files from all pilots in one file (ZIP file)
Briefing › Day 3 › 21.03.2009 › 20:00 CET › saturday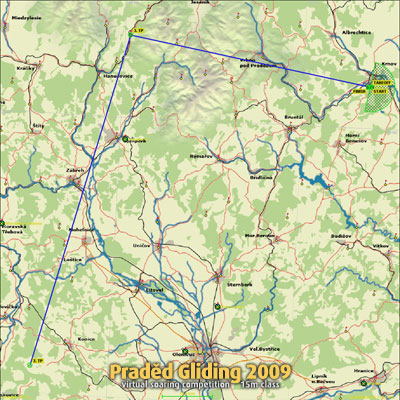 Weather report
After the cold front passage we are ready for 3rd racing day. Today task is a polygon with 234 km distance. We expect a lot of thermal lifts with average climbrate. Cloudbase at around 2300 metres QNH, west wind with speed around 5 m/s.
---
Server:Praded Gliding 2009
Password:
Date:21.03.2009
Time:20:00 CET
Join Time:30 minutes
---
Landscape:Slovakia 4.0
Plane class:15m FAI
Start time:12:30:00
Start alt:1400 m
---
TakeOff:Krnov
Start:Krnov
1. TP:BRANNA
2. TP:HORNI STEPANOV
3. TP:BRANNA
Finish:Krnov
Distance:234.5 km
---
Race starts in 10 minutes after join time ends.
Startwindow will be open for 60 minutes. Cloudflying not allowed!
---

Download flightplan (ZIP file)